Equine Law & Horse Attorney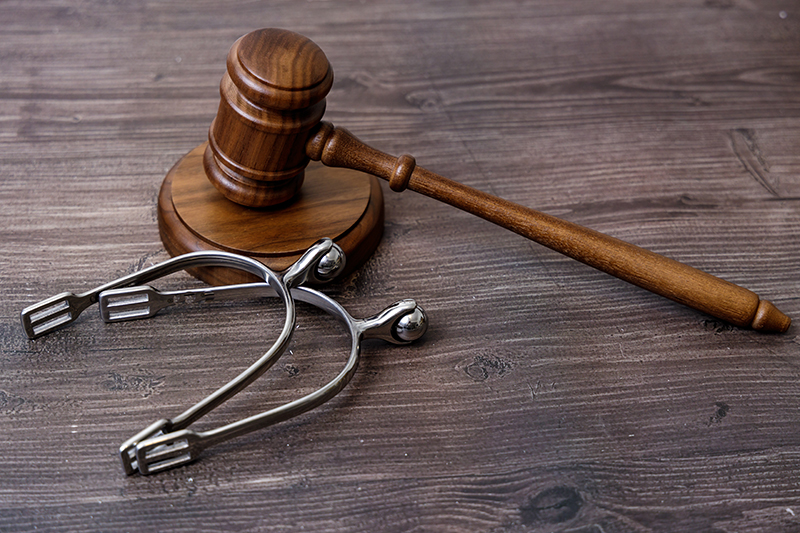 Catanese & Wells, A Law Corporation has served the needs of the equine industry since 1989. T. Randolph Catanese, Esq., the founder and senior lawyer of the firm, has specialized in equine law since 1983. Although Catanese & Wells is a Los Angeles, California based law firm, the legal practice represents clients in all areas of California and throughout the United States. When requested the law firm will also assist clients internationally. In addition to Mr. Catanese, the law firm employs associate attorneys who also have years of experience in representing clients in all manner of horse related matters.
The equine lawyers at Catanese & Wells have a combined 75 years of experience assisting clients with equine legal solutions. The horse lawyers have helped clients with all types of equine related legal issues. The issues go beyond horse law and usually include equine ownership issues, equine purchase and sale problems, equine related tax matters and, where a dispute arises, the proper litigation procedure.
The Equine Law Group focuses on equine law and seeks equine legal solutions that make sense for the client. Since the law firm has experienced equine lawyers a client will be presented with a common sense plan to achieve a client's goals consistent with applicable equine law. The equine lawyers at the firm will quickly identify the best course to achieve the desired result for the client. Once a plan is established the equine lawyers apply their experience and knowledge to obtain the best result for the client.
Mr. Catanese has been a guest lecturer before the National Equine Law Conference sponsored by the University of Kentucky Law School in 2014, 2017 and 2019. He has also been a speaker before the American Horse Council Tax Conference. In addition, he is a contributing board member for the American Horse Council Tax Bulletin. Mr. Catanese has also lectured before the University of Arizona Racetrack Management Program. Mr. Catanese is a Member of the American College of Equine attorneys.
The Equine Law Group at Catanese & Wells represents clients in all areas of equine activity. This includes purchase and sale agreements for horses or ponies, partnership agreements, tax planning and litigation when required to protect a client's interests. Because Mr. Catanese and the associates at the law firm have many years of experience in equine matters a client can rest assured that the focus of the representation is to quickly identify the goal of the client and then accomplish the client's goal expeditiously. Lawyers at the law firm have handled many, many cases at both the State and Federal levels where client equine issues were at stake and the firm has achieved positive outcomes in a majority of those equine cases that have gone to trial.
Catanese & Wells represents clients in all breeds such as sport horses, show horses, racehorses, hunter jumpers, dressage and western. The law firm also represents horse owners and breeders, horse trainers, horse board and care facilities and special business entities such as corporations and limited liability companies engaged in horse related activity. The law firm applies a holistic approach to its assessment of client goals which includes application of years of experience when a client goal or problem is presented for resolution.
Services offered by the Equine Law Group include –
Equine Litigation/Dispute Resolution
General Equine Horse Law
Equine Bill of Sale/Purchase and Sale Agreements
Equine Lease Agreements
Equine Breeding Agreements
Syndication Agreements
Equine Real Estate and Ranch Matters
Equine Tax Planning and IRS Audit Defense
Corporate and Limited Liability Company Formation in the Equine Context
In many client situations, there is a need for a horse lawyer to understand not only horse law, but also a need for the horse lawyer to understand other legal areas that typically arise in equine activities. It is important that a horse attorney be able to synthesize the needs of the horse owner with other areas of the law such as co-ownership of horses, liability for property loss or injury to a rider or a horse and the requirements of state and federal law if a case needs to be litigated by the horse lawyer. Catanese & Wells is based in Southern California and the law firm is available and does assist clients throughout California and nationally.
The equine lawyers at Catanese & Wells offer many forms of client education. The equine law firm offers a complimentary newsletter, articles, forms and related blogs all designed to inform not only clients of the law firm, but also the general public engaged in equine activity.
If you have an existing equine business or occupation or if you are new to the horse community allow Catanese & Wells to assist you. With our years of experience in the law and the business/sport of horses we know we can deliver you superlative service. Click here to contact a lawyer now.