Regardless of how much time you've been blogging or whether you're blogging for fun or for business, it's important to understand the basics of Internet law. Too often, bloggers get into trouble for things that they post but were unaware that there could be consequences. Legal liabilities that bloggers face but are not limited to, include: defamation, intellectual property (copyright/trademark), trade secret, right of publicity, publication of private facts, intrusion into seclusion. Oftentimes, simple mistakes like using someone else's photo or failing to disclose a paid endorsement can result in grave consequences.
Free speech is an important part of blogging but it is important to know how to avoid potential legal trouble. Below are a few tips to following order to avoid getting into trouble with FTC guidelines and Internet law: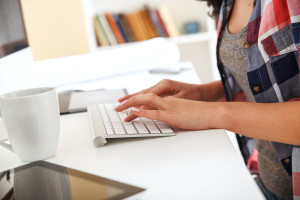 The FTC states that bloggers must be open when they are being paid to use, promote, or review a product. Be sure to label information clearly, be honest about affiliate relationships, and do not claim to be an objective third-party when you are not.
Bloggers do not have permission to use any image, as they might use an image that they do not own and inadvertently pass it off as their own. To legally use images, link to the owner of the image (though this may not be considered sufficient in some cases), use royalty-free images, use Creative Common images, or ask for permission.
Original copy, links, images, podcasts, videos, and code is all protected on the Internet. Your work is copyrighted the moment you publish it. When quoting other articles or blog posts, it's important to give clear credit to the original author and link back to its original source, so as not to unintentionally pass it off as your own.
It is illegal to use someone else's name and misrepresent the fact that they did not write something online. Only use your name and your likeness when authoring blog posts.
Never share or sell any personal or sensitive information from your readers and always share your intentions for collecting their information, along with an opt-out plan.
These are just a few of the many ways to avoid getting into trouble with FTC guidelines. You have every right to exercise your free speech as a blogger but it's important to be aware of the laws and guidelines to be successful. It's important to contact an experienced business lawyer in Los Angeles if you're a blogger in need of legal advice regarding copyright infringement, drafting up terms and conditions, or have any general questions regarding Internet law.