Buy/Sell agreements are important if you own a business or even just part of a business. Without it, your business could face a world of financial and tax issues upon the owner's death, incapacitation, divorce, bankruptcy, sale, or retirement. Luckily, the cost of a buy-sell agreement is small when compared to the benefits, such as avoiding liquidity problems and ward off infighting by family or co-owners.
Who needs a buy-sell agreement?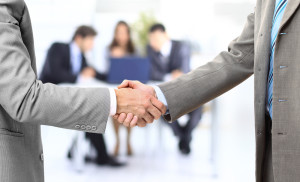 A buy/sell agreement is a great option for any type of business, including corporations, partnerships, LLCs, proprietorships, and more. The decision to get a buy-sell agreement may depend on how many owners there are and who else might be looking for a financial stake in the business. Even with small businesses, disputes and confusion can occur but can be easily be prevented with this agreement.
Avoiding disputes with a buy/sell agreement
Such disputes can be extremely expensive and a buy-sell agreement can save you a good amount of money in the long run and are relatively inexpensive. There are a few types of agreements. One is called a cross-purchase. For example, if you have a business with a partner and something happens to your partner such as death, a disability, or bankruptcy, you can buy his share and vice versa. With a redemption style agreement, the business would make the purchase so the owners don't individually use their money out of pocket. With either type of agreement, there is a great amount of flexibility, such as a fixed price, a payment plan, fixed terms for every type of event (death, retirement, disability, etc.) Insurance is also common in many buy-sell agreements.
Importance of using an experienced attorney
Any buy-sell agreement is better than none and can protect you greatly for a small price. This may seem confusing at first, but with the right lawyer experienced in buy-sell agreements, you can settle something that's perfect and molded directly to you and your business' needs. Agreements can be as complex or simple as you make them and may cost as little as a few thousand dollars, which is small compared to what you could end up spending if a dispute were to occur. This can make a breakup of business partners, death, or disability much easier for you during an already tough time. Whatever the price tag, a buy-sell agreement affords peace of mind that some people think money can't buy. Prevent a dispute or any confusion before it occurs.
Contact Catanese & Wells, a Los Angeles law firm with extensive experience in buy/sell agreements.