Every hobby or organization has it's own share of drama and horseback riding is no exception. There are 1.8 million horse owners in the United States and approximately 40% of them keep their horses in group barns, where they pay board in exchange for care or "rough board" where they care for their own animals and pay simply for the space. "Barn drama", as equestrians call it, tends to revolve around the use of shared amenities like riding arenas and grooming areas, animal welfare, and the unauthorized "borrowing" of other peoples belongings. It takes place between boarders and even staff and can quickly escalate from petty bickering to acts of vandalism.
According to an article by the Wall Street Journal, equine law is becoming is more and more prevalent as owners and barn owners seek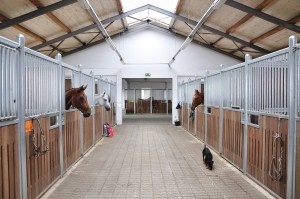 enforceable contracts. Barn owners are taking drastic measures, from installing security cameras, locks, and more contracts to ensure their barn remains drama-free. High-end facilities with riders who compete on the show circuit tend to be higher drama due to their competitive nature whereas trailriding barns are said to be easier-going. Mixing disciplines and ages also tend to make problems worse.
So how can you protect your barn from drama?
Contracts are one of the most important part of owning a barn, to protect yourself, your property, and other boarders. A written boarding agreement should include the rules of the barn, boarding rate, standard of care, termination, expected behavior, and other legalities in order to avoid barn drama or a litigation down the line.
It's important to have a lawyer experienced in equine law draw up any contracts you use to ensure everything is accurately covered. By using Catanese & Wells, you can expect high-quality services and a knowledgeable team by your side and avoid any drama or litigation down the line as a barn owner.