Any good Santa Barbara horse lawyer will advise you to obtain liability insurance for your animal. As an owner, it's important to understand equine liability so that you're prepared in case an accident or incident occurs involving your horse. For instance, you'll need to know what happens if your horse injures a person or another horse. Below are some answers to your questions and advice on how such situations should be addressed.
Many owners assume that if their horse injures someone else or another horse that they're automatically at fault, but this is not always the case. Here are some ways to avoid a suit:
It is the responsibility of an owner to warn people about any hazardous behaviors, like biting or kicking, that their horse may exhibit.

To avoid being responsible for the injury of another, it is important to always ride your horse responsibly. This means remaining off your cell phone while riding and handling your horse properly at all times.

Lastly, an owner may be found at fault if their horse gets loose from the stall due to improper fence latches.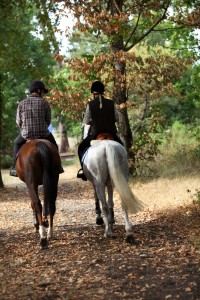 It is strongly recommended that owners obtain liability releases from anyone who rides their horse. This not only protects people from false claims, but from almost all claims of any kind. Liability releases also create a legal defense in the event of a lawsuit. 
Don't assume that horse injuries are covered under your homeowners' insurance policy. Check your policy specifically; some policies only cover injuries if the horse is boarded at the owner's home, while other policies prohibit coverage of any accidents involving livestock. Contact your insurance agent if you have any questions or aren't clear on the details.
A Santa Barbara horse lawyer will advise their client to obtain a liability insurance policy. For a reasonable price, owners can obtain a horse specific policy that will cover the majority of costs in the event of an injury. Even if a person doesn't think that the policy will be necessary, it's definitely worth having, just in case. After all, the price horse owners pay to protect themselves is very small in comparison with the amount that they would have to shell out if they lost an injury lawsuit. Owners need to understand that being responsible for their livestock means obtaining a policy for them. It's that simple.